If your fairy godmother appeared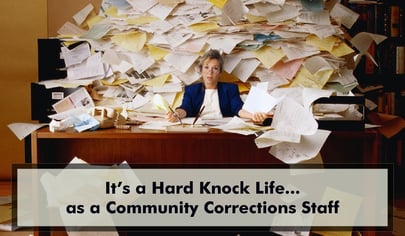 today, what's the one part of your workday you would ask her to wave her wand at?
Maybe it's a task at work that you want to avoid at all costs.
Maybe it's something that you know you need to do but can't seem to find the time.
For me, it was facing the disheartening and down right frightening task of filing those darn manila folders.
Living in Harry Potter's Cupboard
Before CorrectTech came on the scene, I was a Case Manager Supervisor and Program Coordinator at Time to Change Community Corrections (TTC) with an office that served partially as a file room.
The stacks of manila folders (with "to be filed" discharged client files, staff meeting notes, fire drill reports, etc., etc.) would stare me down daily, giving me a constant reminder of the terror that came with tracking and storing them. I think the nightmares and cold sweats have finally stopped.
Discharge Wasn't the End… It Was the Beginning of the Filing Crusade
In community corrections, we are required to store client information following discharge. At TTC, we had to store our paper client files for SEVEN years. For us that meant seven years of historic files occupying real estate in our already overcrowded filing room plus the accumulation of new files.
It was important that we were able to locate that discharge information any time we needed it. A judge, lawyer, supervising agent, county or state auditor could request file information at any time. We might also get lingering paperwork that needed to be filed in the client file after it was already broken down.
Whatever the situation was, it was a constant struggle to keep up with.
Our internal auditing team consisted of case management and management staff and once a file was audited, case managers were in charge of fixing anything and everything that was non-compliant.
Then our internal audit team had to break down the files and label and store them in manila folders.
Let the Filing Begin
Does any of this sound familiar to how your operation deals with its compliance and paperwork shuffle?
Before we implemented CorrectTech's electronic document management system, the files had to be hand sorted and stored by fiscal year (because calendar year would be too easy).
We originally stored them alphabetically in the file room but halfway through the year, this required a lot of reshuffling of files to make room for the new A's, B's and C's.
One of our case managers designed a plan to minimize the shuffling and need for reorganizing by filing each discharged month's clients alphabetically. Although this required more labeling, it was easier to locate and file information after the fact.
Even with this great plan, at the end of each fiscal year we had to shuffle all of that year's files to make room for the new year's.
No matter how great our physical filing system was or how meticulously we organized our files, keeping track of all of that paper was a laborious nightmare.
The Lifecycle of a Discharged Client File
I'm not even talking about the paperwork nightmares of active client placements and keeping the entire team on the same page. I'll tell that story another day…
Filing is the first part of the nightmare; accounting for all discharged files is the second.
We started with tracking each discharged client on a spreadsheet and making sure every file was accounted for.
Panicking when a file you're looking for isn't where it should be…
Tracking down the case manager who held on to the file and still hadn't made the corrections needed to complete the file for good…
Tracking down the internal auditor who hadn't filed the corrected file yet…
Finding that the file was just stored in the wrong fiscal year…
Starting another tracking spreadsheet to address this issue…
The cycle is endless.
The Battle for Space: Our Office vs. Seven Compounding Years of Files
As we ran out of room in the facility for storing terminated client files (as well as business operations files) we had to buy a large storage unit.
Maybe you haven't had to resort to this, but our facility management clearly did not want to convert a residential dorm room or staff office space into even more filing room space.
So, off we went. Getting each fiscal year moved into the storage unit was quite the fun event that required many able bodied helpers.
I laugh (kind of) at this now, but we essentially had to reorganize all of the files again once they got to the storage unit to ensure they were stored together and would be easy to locate in the future.
On the bright side, our storage unit didn't have air conditioning so I could pretend I was having a spa day at a sauna and enjoy myself.
Finally, a solution that our front line staff could cheer about!
When I heard the CorrectTech software would eliminate all that paper tracking and the file room terrors would be over, I was beyond excited.
The system would track internal audits that were due automatically! Cue massive spreadsheet purge from my computer.
If I needed to verify something in the file for discharged or current clients I just sat at my desk and opened it up on my computer. I could see signed documents, case planning, case notes, monitor results, termination reports, anything I needed!
I'm sure referral agencies noticed a difference when our staff responded within seconds of any requests.
Like a Fairy Godmother, CorrectTech Waved its Magic Wand
It's not very often that the thing you despise so greatly and simply can't avoid goes away, but it did when CorrectTech rolled in.
Those of us who lived through the before and after still have our war stories… But to the current staff at TTC, CorrectTech continues to pay dividends in streamlining our operation and giving us time to focus on our clients and their treatment plans.
From an everyday hassle to a total no brainer, paperwork filing is a struggle of the past for Time to Change Community Corrections.
What's your file room terror story?
To request more information or schedule an online demonstration of our community corrections software, click here. We offer integrated software and support services for probation/parole, residential and reentry programs. Our Program Foundation Platform and twenty robust modules were designed by community corrections professionals to guide organizations toward a powerful EBP implementation, relieve them of strenuous paperwork and manual processes, and enable them to focus on what matters - people!