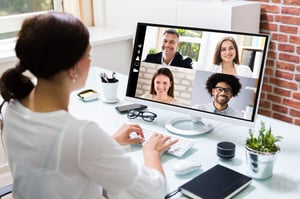 CorrectTech is supporting the work American Probation & Parole Association (APPA) is doing to communicate what is new and needed in technology for community corrections agencies in a time of change and increased remote work. We would like to share the third recently published article from the APPA Technology Committee and encourage you to engage in the APPA community on this topic and more.
In this article, we will focus on tele-working (specifically focusing on enabling staff to conduct virtual meetings while working remotely). We will answer the following questions: "What should you expect from group video conferencing tools, what are the technical and compatibility considerations, and how should you select the right tool for your team's needs?"
The coronavirus pandemic has accelerated the move to tele-work in a way we that we could not have imagined a short while ago. The APPA Technology Committee recognizes that, in response to social distancing orders, community corrections agencies have been forced to rethink normal business practices. With very little time to prepare, many agencies shut down their offices and required staff to work from home. This quite suddenly increased agency reliance on virtual communication tools to enable staff to work remotely, collaborate with and share information with colleagues, and maintain overall continuity of operations.
Given our current situation, the need to maintain effective communication and information flow within teams has become paramount to business continuity.
What to expect from group video conferencing tools?
Many of us have some experience using Skype, FaceTime, or WhatsApp on a one-on-one basis to stay in contact with family and friends. When it comes to connecting with multiple people at once, things can get more complicated. There is such a multitude of tools available that it can be difficult to differentiate between the features of each platform. The following basic functionality comes with many of the free group video meeting services and can include at a minimum:

Setting up an account
Creating a meeting
Scheduling a meeting in advance
Inviting participants
Live chat / group messaging
Speaker identification
There are several additional features you should consider for your own needs. Screen sharing and screen control are important for presentations and group work, as are granular options such as the ability to share an application, document, or the entire desktop. Most video group meeting services also offer a whiteboard tool, which can be used to sketch ideas or take notes during the meeting for everyone to see.
While many features are available with free versions of each platform or on a trial basis, paid services typically offer the ability to record meetings, and a few allow editing of the recording within the software. These recorded meetings can be shared with anyone who missed the meeting.
Ease of use is an important consideration and differentiator, as are security features that allow appropriate controls for who attends and who presents. It is important to test each service's main features: i.e., video and audio quality, secure and controlled screen sharing, and ease of joining a meeting by invited participants. All services provide an option that simply requires attendees to enter a password/code to join the meeting.
Furthermore, there are IT policy/firewall settings to consider, for example is it permissible to download software add-ins to enhance the performance of video tool on the device? In this case, it's important to communicate with staff about hardware compatibility and preferred web browsers used to access the meetings.
Look out for restrictions on some tools, especially the free versions. These limits are usually related to the duration of the meeting and number of participants allowed. Some free plans will limit you to just 10 participants and 40 minutes per meeting, while others offer a trial version for a fixed period. Finally, it is important to plan for situations when a participant can only join by phone. Check that this feature is available on your preferred video group meeting service.
When the host uses the free version of a platform, if you call-in by telephone (instead of using the built-in voice features of the group meeting platform) you may incur a charge. You can check your meeting invitation to see which dial-in numbers can be used. While most work, home and cell phone plans feature unlimited voice minutes, and it is important to note that if no toll-free numbers are available, a toll number may be required. Staff without unlimited voice minutes or fees associated with long-distance calls may be charged based on the rates of their phone service provider (typically .01 per minute).
Technical and Compatibility Considerations
Basic requirements in order to access group video conferencing are an internet connected device (such as PC, tablet, or smart phone), video display (screen), camera, microphone and speakers. Depending on the organizations' technology policy, some staff may have access to work issued mobile devices such as laptops. However, during the recent COVID-19 situation many people found themselves at home with little or no technology apart from their personal phones and tablets.
Most modern mobile devices are made with video communications in mind and have built-in video compatibility. If your device doesn't have what you need, USB-connected webcams and headsets are affordable and can be purchased online. Modern USB devices are generally "plug and play," so they should automatically work when plugged into your device. If not, a simple device restart should suffice. For example, a high-quality microphone and HD camera package costs less than $75 – coming in handy for computers which have older video conferencing tech or none at all.
Most group video conferencing solutions are compatible to work on PCs, Macs, and Linux devices. Also, they often feature a mobile app for Android and iOS phones. Almost all are broadly compatible with most web browsers, but the browser may need to be upgraded to one of the latest versions. However, many programs require plug-ins or downloadable apps to get the full featured experience. This can often be a sticking point when corporate IT policies restrict what can be installed on work devices. As such, it's important to consider what works best within the framework of your organization. Microsoft Teams, for example, tends to work best in integrated Microsoft-stack agencies. Every tool we looked at offers a browser-only option that can simplify the connection process; however, it seems that the best control, user experience, features, and security are achieved when the downloaded tool is in place.
How to choose the right virtual meeting tool
In order to help you choose the best tool for your agency, we suggest a two-step process. First consider your specific circumstances, then compile a checklist of the essential features you require. Your checklist can be used to compare the tools you wish to consider. We have created a sample considerations list and evaluation checklist to assist you. These are offered as guides; you will be the expert on your own circumstances and needs.
From our assessment of the tools we have reviewed (below), there are two primary classes of group video conferencing tools. One set is designed for consumer use – characterized by ease of use and low barriers to join and connect. Another set is designed for commercial/business use – with security and control as core features alongside ease of use. Each agency will have to work within its own financial constraints. If there is no budget at all, the free tools (Google, Zoom, Skype) are great options. If this is to become a major part of a long-term strategy for tele-work and/or tele-supervision, we recommend evaluating the various business-focused tools (Cisco WebEx, GoToMeeting and Microsoft Teams).
Considerations list for Tele-work
---
---
Struggling with all the change? We get it. Check out this blog and webinar: Mindset Matters : Appreciative Thinking in Time of Crisis from Alexandra Walker of ACJI.