Our Behavior Management Package
Easy. Effective. Calculated.
Integrated software is the key to bringing all of the elements of client behavior management together so practitioners can work effectively on what matters most! Combining a number of our integrated modules, we introduce the CorrectTech Client Behavior Management (CBM) solution that can move any agency forward in the quest for better outcomes.
A Powerful Combination with Incredible Flexibility
As with all software components in CorrectTech, the Client Behavior Management package can be configured to meet your agency's specific needs. It operates as an integrated system for any agency by automating any and all components that impact client behavior and management:
Assessments

Case and treatment planning

Incident reporting

Sanctions and behavioral interventions

Incentives and rewards management

Automated self-service client communications

Codified case notes

Electronic document management

Data analysis engine for measurement and continuous improvement
Some of the key features of the CorrectTech CBM package are outlined here.
Click on the icons to the right for more information on each component module.
Standardized Sanctions and Progressive Responses Made Easy!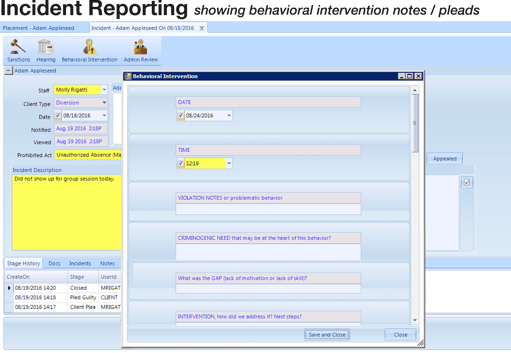 Thanks to experience and EBP research, we know clients and agencies both want transparency, accountability and fairness in how sanctions are handled in response to rule violations. Individualizing client responses while staying consistent with agency standards and practices is easier said than done, unless you have a complete and integrated software solution.
Let's work together to create consistency and mutual accountability in how rule violations are handled.
Based on your agency rules and standards, CorrectTech's CBM automatically progresses the sanction response for a client based on the class and number of rule violations in a given time frame. Using Colorado DCJ's BSMART (Behavioral Shaping Model and Reinforcement Tool), we fully automated the entire sequence of incidents including:
Our mission is to make case managers' and security staff's jobs easier.
Imagine 50% of the work associated with incidents being offloaded to the client.
Using Client Self-Service, clients can see their incident reports and associated sanctions, plead to the incident, electronically sign incident reports (if required) and view the resulting sanction right there on screen!
All client interactions are recorded automatically in the electronic file.
No more negotiating with clients and the "Why are you picking on me" argument… the client's behavior earned them the defined sanction. It is not about you, it is about their choices. And, your behavioral interventions are teed up right there as part of the violation response to help them avoid future infractions.
Incentives and Rewards – fully integrated and automated!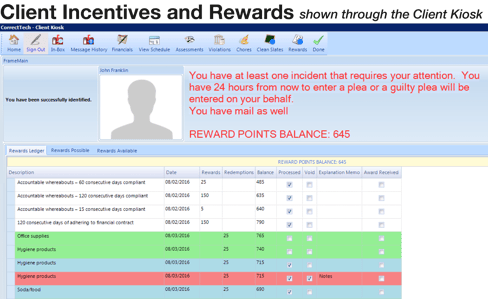 Get rid of those killer spreadsheets trying to keep up with client incentive points and who has redeemed how many points when and for what…
Bring your incentives and rewards program into the 21st century with the CorrectTech Client Behavior Management solution. This is not just a standalone recordkeeping system. It is fully integrated with every element of behavior monitoring and management you choose to automate, including but not limited to:
Case plan completion

Clean drug testing

The absence or presence of key events in a case file (such as an employment date or a GED completion)

Individualized pro-social client behaviors
Let CorrectTech do the client behavior recognition because your staff is too busy to be in charge of recording and counting clean UAs and cumulative community service attendance with and the rest of the positive behavior you are looking for.
Not doing a rewards system?
That is understandable without any practical means to recognize such a wide array of client behavior and track incentive points and redeem rewards without killing staff productivity. BUT - EBP and the 4:1 ratio tell us we do need to recognize positive client behavior.
Now you can! Ask for a demonstration of this new powerful system and see how it operates in a fully integrated fashion with client case plans, Client Self-Service, random monitoring, the client document center, the case notes system and more.
Make it Your Own! You can follow the Colorado DCJ BSMART standard for setting up your client behavior recognition and reward system, or define your own. Standardized client behaviors are defined (such as clean UAs over XX days, no community whereabouts incidents over YY days, new employment within 60 days, etc.) to meet your local standards. Individualized client behaviors are defined in the case plan, making completed goals and actions eligible for incentive points.
Our software automatically credits points to clients when their positive behaviors and accomplishments are completed for seamless points delivery and up to date rewards balances. This is all visible to clients via Client Self-Service, to case managers via the electronic client record and to the rewards store manager (who can be responsible for dispensing of commissary type items to clients based on their points balances).
Why not make clients do the work of keeping up with their points balances and rewards requests?
Taking these tedious inquiries out of your staff's way can make this a true win-win for all involved.
Case Plans that link client needs to completed goals and steps!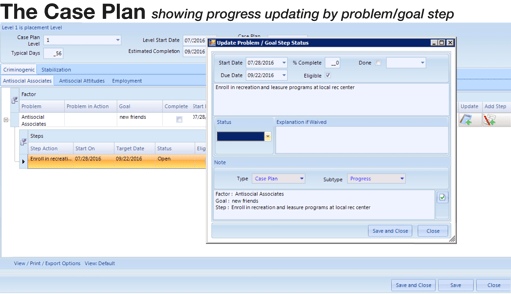 Are your client case plans developed on paper, stored in a file folder and rarely looked at again in an active fashion? (And yes, Word documents count as a paper form.) Yeah – we hear that a lot!

Taking our queue from Colorado DCJ on their definition of the Progressive Matrix Action Plan (a paper form), the CorrectTech Case Planning tool fully automates case plan development tied to each client's top criminogenic needs with goals, action steps, due dates AND item eligibility for incentive points.
After developing your client case plan, reflect on your face-to-face meetings with your clients. Making progress notes on a case plan is done electronically. Case notes automatically store in the case file where goals and steps are tracked chronologically and grouped with their identified need for a complete digital picture of case plan progress for the case manager and client to collaborate on.
That's not all! Because measurement and feedback are cornerstones of EBP, – you can use the Global Data Manager to run data analysis on historical client populations based on:
Risk levels

Level advancement

Needs areas

Goal and action step completion rates

Successful/unsuccessful program completion.

Subdomain scores of the assessed needs

Dosage completion by CBT area

Community service

Vocational training

And much more
The CorrectTech CBM solution can be optimized for any agency.
You can easily start with just the basics to get up and running quickly, then configure and activate other modules and elements as needed.
Depending on the nature of the services your agency offers, other CorrectTech modules can be activated to augment the CBM solution. Check out our Dosage Management, Group Sessions, and Treatment Management modules for more in-depth and streamlined client behavior management.
Ready to learn more? Just let us know and we would be glad to set-up a time to listen to your needs and see if the CorrectTech Client Behavior Management package is right for you.